Volunteers tow the line for Harold
Sunday, 27 May 2018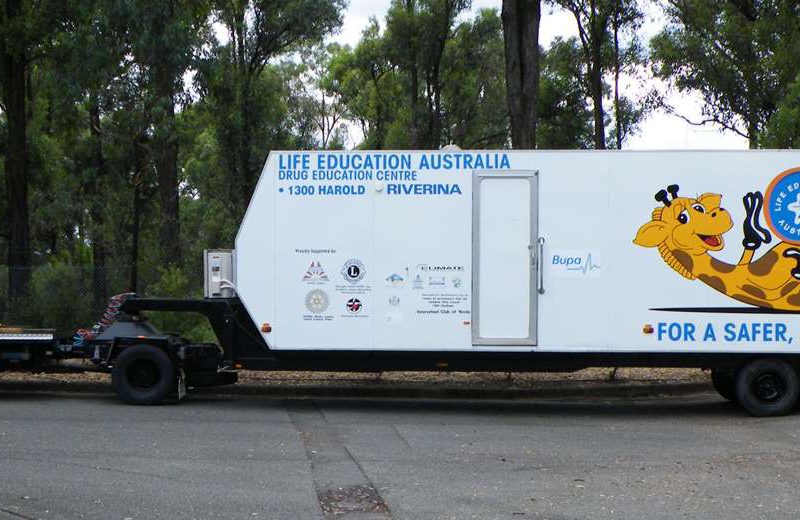 They say it takes village to raise a child. But what does it take for an iconic Australian giraffe to travel around the county in a van delivering health and safety messages to kids?
According to Life Ed NSW regional volunteer Lynda Whiley, when it comes to keeping Healthy Harold's wheels turning, there is a lot more going on behind the scenes than most realise.
"People have no idea about what it takes to deliver our program, especially in country areas of NSW. For starters, there's an assumption that there is one van travelling around the state visiting all of the schools. That's certainly not the case!" says Lynda.
For more than 20 years Lynda has been coordinating the Finley area for the Riverina Life Education van, which is one of 44 Mobile Learning Centres that operate in NSW.
Last year, Healthy Harold and Life Ed NSW's 60 specialist educators visited almost 300,000 children in more than 1800 schools across the state.
That's around 50,000 km of towing in one year alone – the equivalent of travelling around Australia 3.5 times!
Behind it all is a volunteer army made up of more than 150 local councils, service clubs, schools and parents helping Healthy Harold to reach every local government area in the state.
"The Riverina van visits around 50 schools in the area each year. Each time the van needs to be dropped off to the school then picked up – that takes a lot of coordination and a lot of drivers!" says Lynda.
Lynda will tell you it is a belief in the organisation and a real need in her community that has spurred her on during the years.
"I have five kids and three grandchildren who all went through the program. My son has even helped tow the van!
It's so important for kids to be educated about their body and healthy living. I'm a registered nurse and I see first-hand the effects of drug and alcohol abuse. People in this area have less access to health resources. Services like Life Ed are imperative.
For Lynda, supporting Harold's team of educators is also part and parcel of the job.
"When they come out here, they are really isolated. I worry about their loneliness, so I try to do little things like inviting them over for dinner for some company."
Lynda is retiring from her volunteer work this year but the wheels will continue to turn on the Riverina van, thanks to the help of the local Rotary and Lions clubs.
Truth be told, filling Lynda's shoes will be no easy task.
"I take pride ensuring Harold arrives safely at school – I don't let any cowboy move the van!" jokes Lynda.